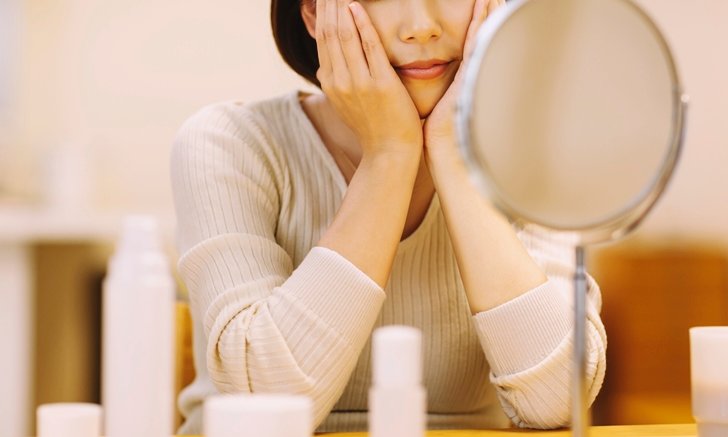 It is still applicable to women of all ages. Nowadays, there is a natural no-makeup makeup technique called "makeup no-makeup". joker We still have to use makeup on the surface anyway.
Although make-up makes women more beautiful More glam But everyday makeup seems to be too damaging to your skin, so take a break. Or let your face breathe while on vacation Not having to go out to meet with people
And if you know how many advantages of no makeup are May cause some people to change their minds and want to bare their face
1. The skin is no longer dry
Makeup, in addition to interfering with the skin cell turnover process If washing your face is not clean, it will affect the exfoliation of dead skin cells as well. Which, if left for a long time Might lead to dry skin And can make the skin look dull Which, when we look bare face, it will be good for the process of shedding dead skin cells.
2. Reduce crow's feet
The consequence of regular use of make-up and makeup tools is that fine lines, wrinkles and crow's feet are likely to increase, although many women choose to apply makeup to conceal wrinkles. Make your face look younger But do not forget that the real page Ours are also full of traces of age.
3 acne reduction
When the face is without makeup It will help reduce the problem of washing your face is not clean. Acne problems Or acne inflammation down It also helps restore the skin to return to its original state faster, you can just try to release your face fresh. Chronic acne problems may be better. The face looks healthier.
4. Reduce various hyperpigmentation.
If makeup brush Or a sponge that used to make up is not clean It is a place for bacteria to accumulate. Until leading to acne And when the acne is gone, it often leaves various dark marks. So, if you don't want unwanted free items, resting your face from make-up will help reduce this problem as well.
5. Reduce infectious eye problems
Eye makeup Most of them will put a preservative as well, such as mascara or eyeliner that we use to brush lashes and eyeliners. This can cause inflammation of the conjunctiva or cornea. Which if very severe May lose sight at all