Tens of thousands of people have marched through the Bangladeshi capital, Dhaka, demanding a boycott of French goods amid a row over France's tougher stance on radical Islam.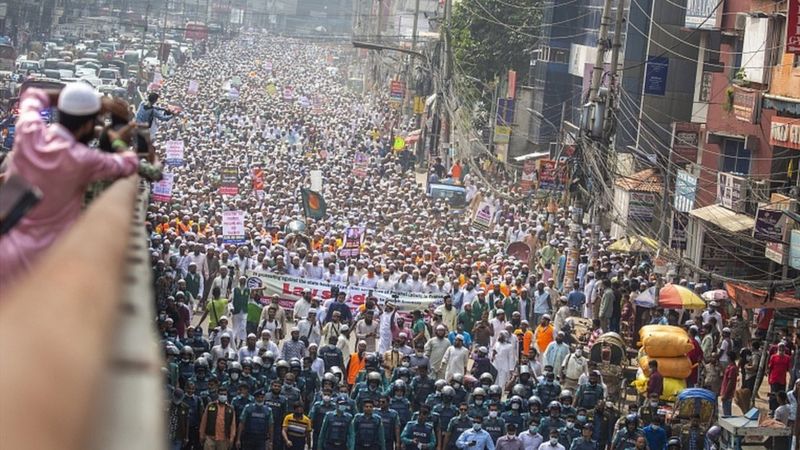 They burned an effigy of President Emmanuel Macron, who has defended cartoons of the Prophet Muhammad.
Police blocked the marchers from reaching the French embassy.
Mr Macron has become a target in several Muslim-majority countries after his defence of French secularism.
He spoke out after a teacher was beheaded earlier this month for showing cartoons depicting the Prophet Muhammad. Paying tribute to the teacher, Mr Macron said France "will not give up our cartoons".
On Monday, Turkish President Recep Tayyip Erdogan also called for a boycott of French goods.
In a televised speech, he said Muslims were now "subjected to a lynch campaign similar to that against Jews in Europe before World War II". He said "European leaders should tell the French president to stop his hate campaign".
But governments across Europe have come out in support of Mr Macron and condemned Mr Erdogan's comments about the French leader. Mr Erdogan said his French counterpart needed "treatment on a mental level" for his stance on radical Islam on Saturday, prompting France to recall its ambassador to Turkey for consultations.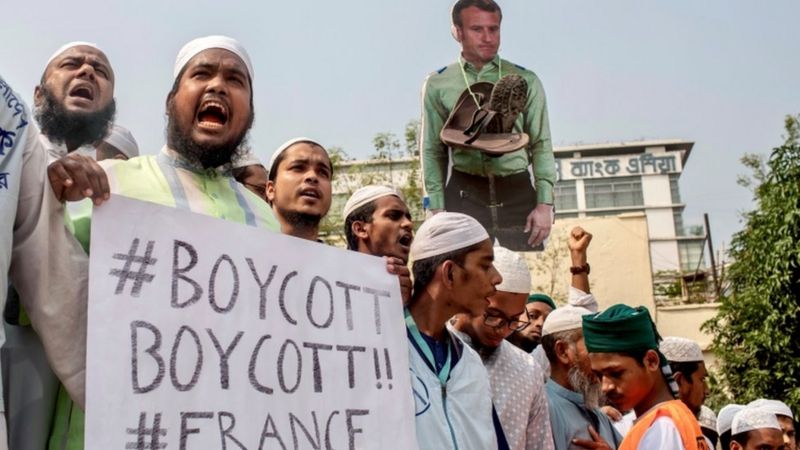 What happened in Dhaka?
Police estimated that about 40,000 people took part in the march, which was organised by Islami Andolan Bangladesh, one of Bangladesh's largest Islamist parties.
Protesters chanted "Boycott French products" and called for President Macron to be punished.
"Macron is one of the few leaders who worship Satan," senior Islami Andolan leader Ataur Rahman told protesters.
He urged the Bangladeshi government to expel France's ambassador.
"France is the enemy of Muslims. Those who represent them are also our enemies," said another of the group's leaders, Nesar Uddin.
Police used barbed wire to barricade a road about three miles (5km) from the French embassy, keeping marchers away.
For more information, please visit pgslot